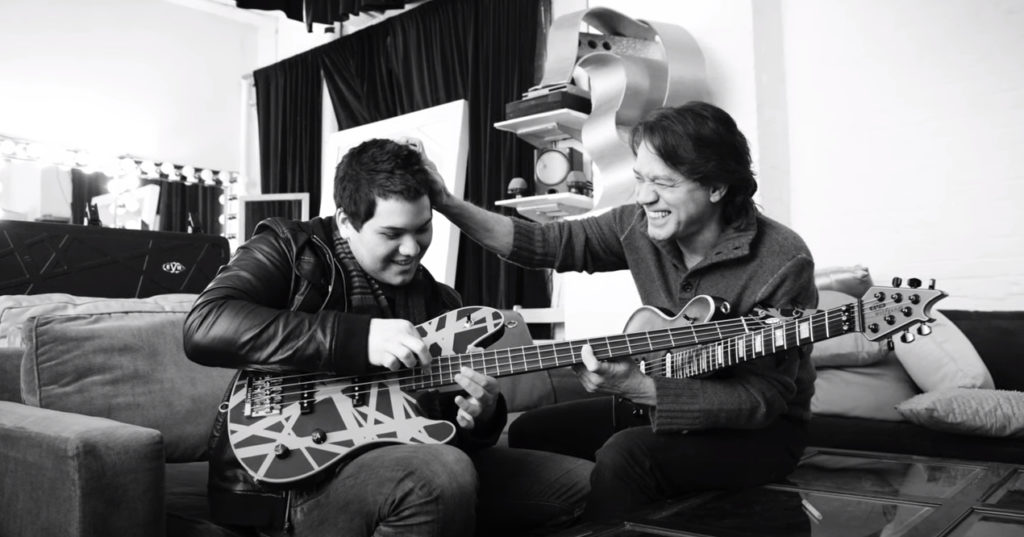 Wolfgang Van Halen made an appearance on the Howard Stern Show today to discuss his solo album lead single "Distance," and the tribute it pays to the unique relationship he shared with his father, Eddie Van Halen.
"That's the gift and the curse of it because we had such a close [musical] connection, and now for the rest of my life there's no way I'll never be able to think about him no matter what I do," said Wolfgang.
Wolfgang initially started writing "Distance" as a way to cope with his father's cancer diagnosis in 2017.
"There were a bunch of other ideas that were kind of waiting there to be finished, and 'Distance' was one of those," Wolfgang told Stern. "When this happened, it was like, 'Let's finish it, and let's put it out for dad.'"
The music video for "Distance" captured intimate home footage of Wolfgang with his father as they bonded over music.
"As my Pop continued to struggle with various health issues, I was imagining what my life would be like without him and how terribly I'd miss him," Wolfgang posted on YouTube.
"While the song is incredibly personal, I think anyone can relate to the idea of having a profound loss in their life. I never intended 'Distance' to be the very first piece of music people would hear from me, but I also thought my father would be here to celebrate its release. This is for him. I love and miss you, Pop," he added.
For the legions of Van Halen fans, including Stern, it has been an emotional tearjerker.
"You have these great home videos of you and your dad, and when you're sitting at the piano on your dad's lap, and I fucking lost it!" remarked Howard Stern.
Watch Wolfgang's touching music video for "Distance" below. Proceeds from "Distance" will be donated to Eddie Van Halen's favorite charity, Mr. Holland's Opus Foundation MHOpus.org.