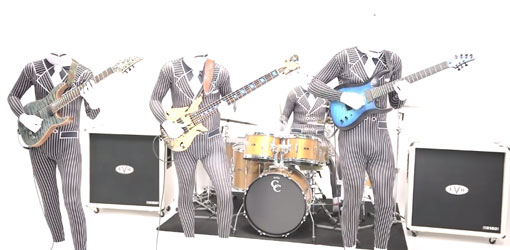 Texas progressive standouts Scale the Summit certainly had some interesting wardrobe choices in their new video for "Blue Sun," a shreddy track off the impending V, which is due out Sept. 18.
In the video, all members of the quartet donned a pinstripe spandex bodysuit that covered their heads and hands in white, aside from thin mustaches.
Playing in front of a set of EVH 5150III 4×12 cabinets, the guys really pushed the envelope of prog-rock, which was a calculated move.
"People have always wanted STS to go crazy with shredding – and we finally catered to that demand on this song," guitarist Chris Letchford told Prog. "I consider this the album's epic song. It has some of my favorite parts of the whole record. We're really tapping into prog metal goodness on this one."
Watch the video below and click here for more on Scale the Summit.