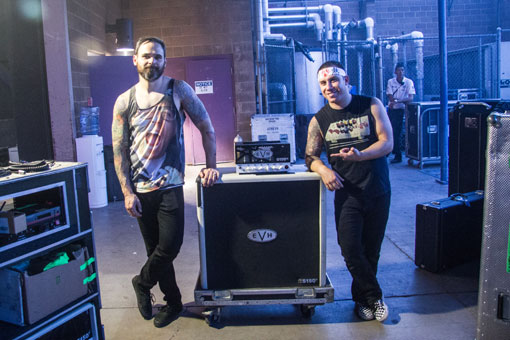 Atreyu made a strong statement at Arizona's 98KUPD UFest over the weekend, tearing Ak-Chin Pavilion stage apart as they stormed through songs from latest album Long Live, as well as classics like "Doomsday."
The Orange County metalcore band held court for only 40 minutes per the festival schedule, leaving fans definitely wanting more, especially as lead vocalist Alex Varkatzas jumped into the ecstatic crowd and ran all the way to party out on the back lawn.
Drummer Brandon Saller and bassist Marc McKnight pounded a deep Visigoth beat, while guitarists Dan Jacobs and Travis Miguel traded killer string action throughout the set.
Jacob's sound was in part powered by his beloved EVH Lunchbox head and EVH 5150III 4×12 cab.