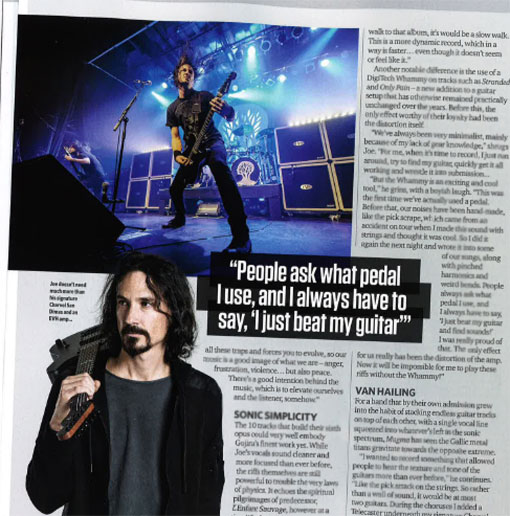 In its July issue, Total Guitar features an in-depth article with Gojira frontman Joe Duplantier about the making of new album Magma.
Joe and his brother, Gojira drummer Mario Duplantier, had relocated to  New York, built a recording studio and started writing new material when their mother became fatally ill.
"It drastically affected the creative process," Duplantier said of her passing. "I kinda want to say the entire record is all about that … I'm all about that, I mean, I lost my mum. It's difficult to explain the reasons behind the art sometimes. You recycle every single thing that happens to you. We're all confronted by death … that's what people do. They die! It's interesting how something like that can be that extraordinary and painful, yet totally normal. Life has all these traps and forces you to evolve, so our music is a good image of what we are – anger, frustration, violence … but also peace."
Instead of stacking guitar tracks on top of each other as the French metal act had done in the past, Duplantier said the band went for a more minimalistic approach.
"I wanted to record something that allowed people to hear the texture and tone of the guitars more than ever before," he shared with TG. "Like the pick attack on the strings. So rather than a wall of sound, it would be at most two guitars. During the choruses I added a Telecaster underneath my signature Charvel— I love the sound of them because they're very bright and make a big difference even when super low in the mix. It brings a different vibe with the single-coils."
Gojira also relied solely on his tried, tested and true EVH 5150III amps.
"We had a DI so we could re-amp everything if we weren't satisfied," said Duplantier. "You'd think for such an important album, we'd do a bit of that, but we didn't even have to bother … one Shure SM57, right in front of the EVH speaker. It's not processed, it's a very pure sound. They don't give me money to say that (really, we don't!), I just love the amps they send me. Over the years, I've A/B'd a bunch of stuff, like really expensive gear off anyone I knew … Diezels always sound great, loud as fuck, super sharp and so good to play, but for some reason the EVH always suits me best."
Click here to purchase the July issue (available via print or digital) and to read the full article!