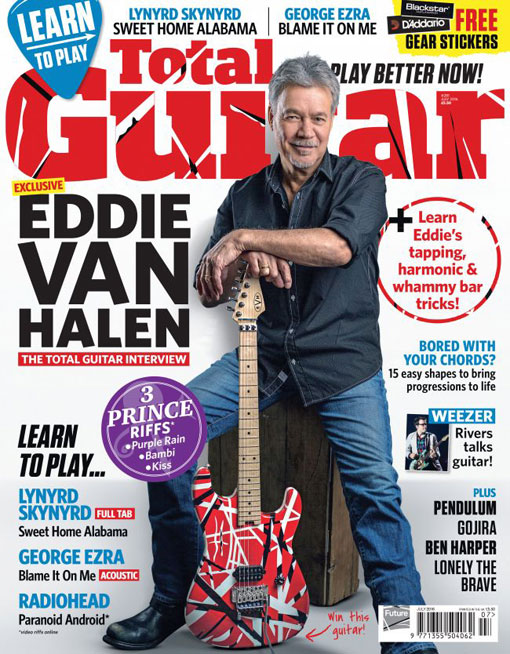 "Every instrument has its pioneers – game-changing mavericks who push things forward – and if Jimi Hendrix kicked the electric guitar door down, Eddie Van Halen ran through it, picked up what was left, covered it in tape and built a stairway to the next level," so writes Stuart Williams in his intro for the Total Guitar July cover feature story.
The U.K. magazine was invited to Van Halen's 5150 Studios for an exclusive opportunity, and they certainly made the most of it.
"What do you ask Eddie Van Halen when you have a once-in-a-lifetime hour with him?  You ask everything."
And so the article spans wide-ranging topics from Frankstein to the motivation behind the stripes to his Wolfgang guitars to his EVH amps and everything in between, including some interesting tales about the lengths he'll go to ensure that the products he releases to the public are battle-tested. Like what he once put his 5150III amp through.
"I left it feeding back for a month!" Van Halen told TG. "And then I put a bass through it and left it for another month, because I wanted a really low frequency to see how the amp and the cabinet would hold up. [I'd try] different feedback frequencies, really high, then I'd muffle the other strings once I got the note that I wanted it to feedback at, and I'd just leave it.
I'll never forget, we had a Fender meeting with the powers that be to talk about something, and we're walking up the hill to the studio here and  they hear this, "Oooooh'. Then we open the door and it's 'OOOOOH.' Then we open another door and it's just fucking screaming! And they all went 'What the fuck are you doing?' And I'm like, 'I'm crash-testing the amp!' I don't like stuff to blow up. So then I take it out on tour for a whole cycle before it was released to the public. Nothing goes out until I've totally fucking crash-tested it."
In addition to the magazine's nine-page interview, the July issue also includes over 20 lessons on how to nail his famous harmonic, tapping, picking and whammy techniques.