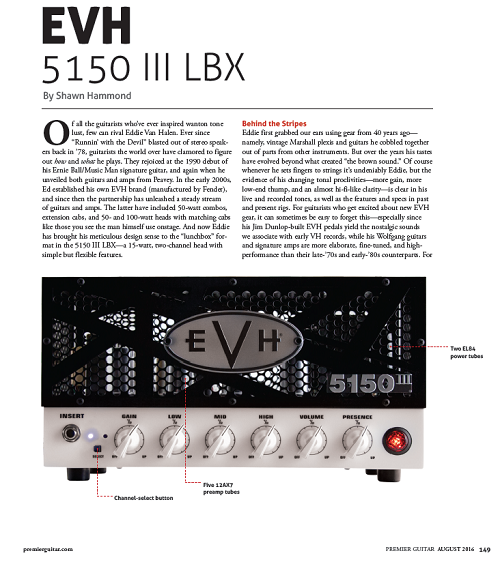 In the August issue of Premier Guitar, Shawn Hammond shares an in-depth review of the EVH 5150III LBX head and awards it an overall 4-star rating.
The article includes a little bit of Van Halen history, a deep dive into the amp's features, and insider tips and tricks to really make the LBX sing.
Right off the bat upon plugging in the amp, Hammond notes there's "a lot of dirt on tap."
"Even in the tamer crunch channel, it piles on fast once you nudge gain past nil," he writes. "The saturation begins roughly where the average distortion pedal is with gain halfway up. This will be of particular note to anyone wondering if the LBX can conjure the glassy, semi-clean plexi tones of yore. Make no mistake: Despite its humble size and wattage, this 5150 is built to scorch. You can get clean-ish sounds by lowering your guitar's volume, but don't expect to footswitch between clean and dirty sounds."
In a section called "On Fire," Hammond also waxes about the amp's burn channel.
"Anyone who's followed Mr. Van Halen's gear journey knows it hasn't just inspired VH fans. Notable hardcore and metal outfits also treasure specific Van Halen amp design, and to fans of this crowd, the LBX's full burn channel may be mayhemic bullion. Dime all the controls and bring back the mids a bit, and the amp roars, sings and stings with an openness that simultaneously sparkling and brutal. (This is a loud 15 watter!) Thanks to its ungodly gain and handy resonance control—which tailors the depth and tautness of the amp's low-end response—you can wreak pummeling havoc and get manic sustain."
Read the full review here, and check out the video demo by PG's John Bohlinger below.