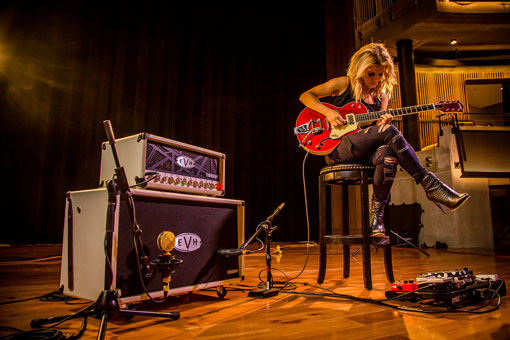 When guitarist Paul Sidoti, who plays with Taylor Swift, first recommended the EVH amps to Lindsay Ell, the country artist was more than just a bit skeptical.
"I was like Paul, 'I will listen to Eddie play all day and look at YouTube for hours and hours and hours but I can't play EVH,' and he's like, 'No, trust me; trust me,'" recalls Ell in our exclusive video below. "You definitely get that EVH tone but you can get an amazing clean, beautiful custom-built amp tone too so it's why I've fallen in love with it. As crazy as I would have thought that was three years ago, I love my 5150."
Ell has also become a huge devotee of the EVH LBX head.
"I love the EVH Lunchbox," she says. "It is so easy to bring anywhere. I use it for pretty much all of my rehearsals, especially with a little 112 cab. I can easily throw it in the car and for being a female, a huge cab isn't the easiest thing to put in the car every day."
Touring since her teenage years growing up in Calgary, Canada, Ell also shares an endearing story about what it was like to try to load her amp gear into her 15-passenger van.
"I remember my first 212 was in a rode case, and my dad actually built this ramp to go inside my van," explains Ell. "So I would take a running start on the street with this amp because sometimes I needed to pack by myself and no one else was home. So I had this ramp to push my 212 into the van, so yeah the Lunchbox was like a calling from heaven that it was something nice and small to take to a show. And the power that can come out of that thing is very shocking—the tone too that can come out of such a small head— it's awesome."
Watch the clip below for more on how Ell leverages her amp rig, and hear some of her terrific fretwork.