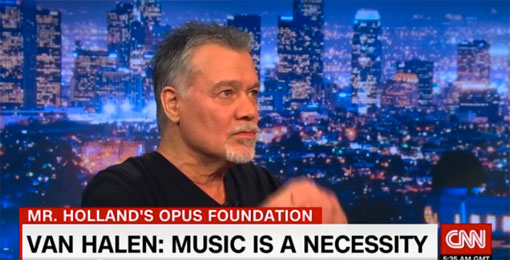 Eddie Van Halen joined Felice Mancini, the President and CEO of Mr. Holland's Opus Foundation, for an interview this week on CNN to discuss music and the non-profit organization's mission to keep music alive in schools.
"Music is such a necessity. It touches people's souls," Van Halen told CNN. "Music is the universal language to me. It transcends everything."
Van Halen has been an advocate for the foundation for quite some time, even giving away 75 guitars from his personal collection to public school kids a few years ago through the program.
Mr. Holland's Opus Foundation delivers 1,800 instruments each year to low-income schools, providing more than 10,000 children with a musical education.
"Our goal is to give kids every tool they can possibly have to succeed," Mancini told CNN. "Music is the common denominator. You put a kid in a music class and it builds community, communication and they find a place. It's a safe haven."
Watch the full interview here, and click here to find out how you can help support Mr. Holland's Opus Foundation.