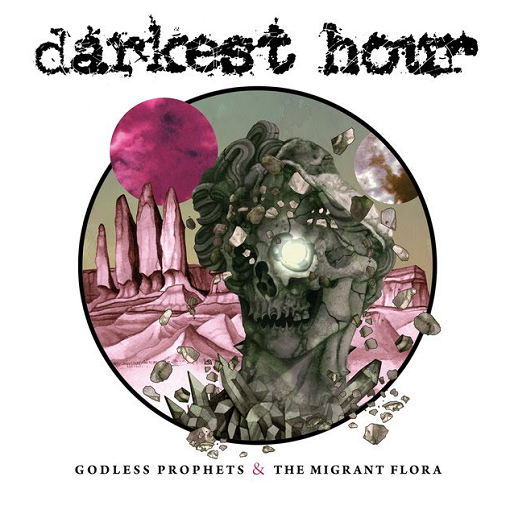 Melodic death metal vets Darkest Hour will release new album Godless Prophets & The Migrant Flora this Friday. The highly-anticipated album, which was made possible by a very successful Indiegogo crowdfunding campaign, has already received rave reviews from critics and fans.
The band began recording in late 2016 with producer Kurt Ballou at his studio GodCity in Salem, Mass. To many of Darkest Hour die-hard fan's surprise, former guitarist Kris Norris returned to collaborate on the writing and recording process. Having Norris back in the fold helped inspire the creative process in new directions while still maintaining the integrity of their sound.
"While this album is not a throwback or homage to anything we have done in the past, we are doing our best to capture the spirit and energy of those early records this time," stated founding guitarist Mike Schleibaum. "Bringing in Kris on a few songs is just a great way to keep things fresh. This album is as forward-thinking creatively as it is noticeably Darkest Hour sonically."
Leading up to the album release, the band dropped two singles to get fans buzzing, including track "Knife In the Safe Room."
"This song sets the tone for the album both lyrically and sonically," said Schleibaum. "While this may be the most fierce album we have ever released, its depth and sonic richness are sure to be discovered as the listener dives in."
During an episode of the band's four-part mini-series documenting the recording process, Schleibaum credits the EVH 5150III for providing the "definitive Darkest Hour sound." As a long-time endorser of the EVH amp line, he also mentions that it is what the band has "used live forever."
Pre-order the album here.