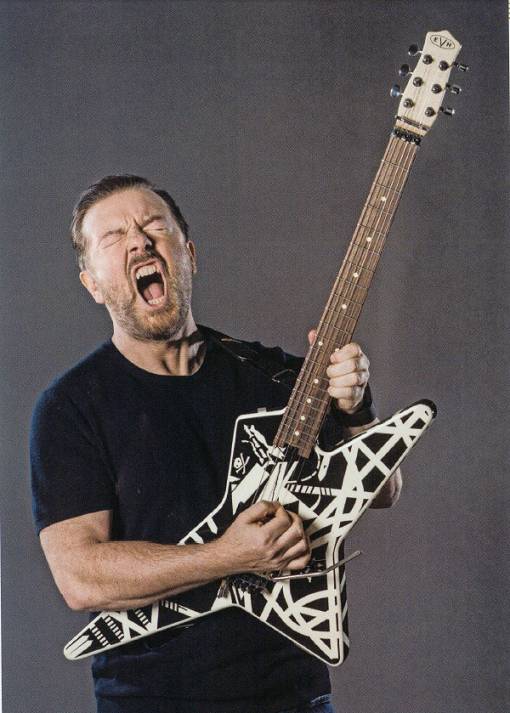 Striking a pose with an EVH Striped Star in the March/April issue of Guitar Aficionado, actor and comedian Ricky Gervais talks gear and his less-than-stellar attempt for rock star status.
"My worry is that I'm a fat little comedian," joked Gervais. "Me trying to pose like I think I'm Eddie Van Halen would not go well."
Despite Gervais's concern during the photo shoot, he knows his way around the fingerboard with 40 years of guitar playing under his belt. He even had a successful stint as a musician in the '80s with synth-pop duo Seona Dancing, earning a few minor hits in the U.K. However, like many musicians trying to make it, Gervais recalled a particularly depressing gig with another rock band.
"It was 1986, and we played a pub called the Bull and Gate in Kentish Town in London," he told GA. "We did soundcheck, and the sound guy said, 'You might as well stay on, lads. You're on now.' I went, 'When are they opening the doors?' And he went, "They're open. No one's come through to see you.'"
Although his days as a struggling musician are far behind him, Gervais is leveraging those past experiences as he revisits his character David Brent from the original British version of The Office in the new Netflix film spinoff David Brent: Life on the Road, which follows his optimistic last-ditch effort for rock-n-roll fame.
Read more from the article here.