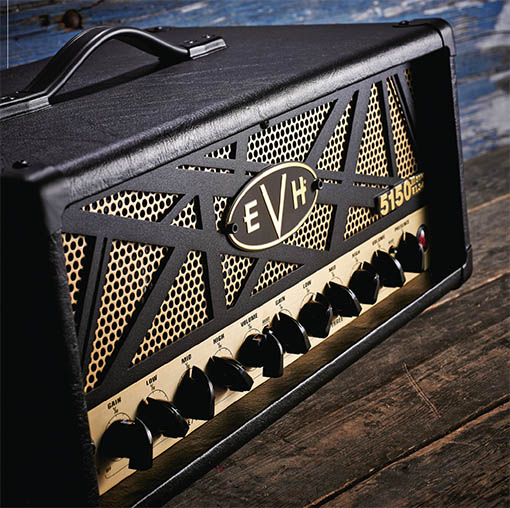 Total Guitar magazine took an up-close look at the new EVH 5150III® EL34 50-watt head in its October issue, giving it a 5-star rating and its "Best Buy Award."
As the magazine notes, ever since EVH released the 100-watt EL34 head, consumers have been clamoring for a more affordable format.  That is now available with this 50-watt version, featuring the same ferocious tones along with separate gain and volume controls for each channel on dual concentric pots. Channel 1 (clean) and channel 2 (crunch) share the same EQ, while channel 3 (lead) gets its own dedicated EQ.
The review goes into great detail about the overall feature set, and also explains why true Van Halen fans will love the EL34 offerings.
"The EL34 version of the 5150 is important because Van Halen's groundbreaking early work relied exclusively on heavily-modified Marshall Super Lead heads, which used EL34s," notes TG's Nick Guppy. "Compared with 6L6s, EL34s have a slightly compressed frequency response and a more aggressive clip, making this new head the perfect weapon for achieving authentic vintage Van Halen sounds, as well as Eddie's more refined and defined modern tone."
Guppy's final verdict?
"EVH's 5150 III 50W EL34 is a highly effective weapon for the modern rock and metal player that puts tone before unnecessary complexity. It's also compact and an ideal traveling amp while the addition of MIDI gives it pro- standard  versatility. It's not cheap, but the features, build quality and tone make it worth the money."
You can order your subscription of Total Guitar magazine here.