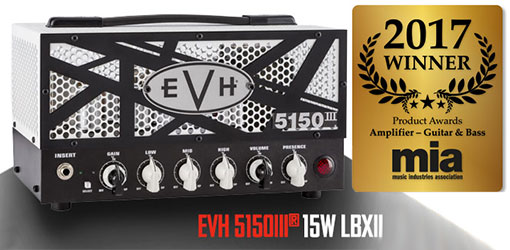 The UK based Music Industries Association held their annual MIA Gala Dinner and awards ceremony at the Shoreditch Town Hall in London last week. Celebrating some of 2017's best people and products, EVH stood triumphant as our 5150III® 15W LBXII Head took home top honors in the Amp category.
We are extremely proud of this achievement and want to say thank you to all the MIA members who voted for the 15-watt amp that packs an extraordinary and powerful punch in an easy-to-carry, "lunchbox" sized package.
Get the full rundown of award recipients and honorable mentions by CLICKING HERE.
And if you've yet to experience the LBXII, please make its acquaintance by watching this quick teaser video below.