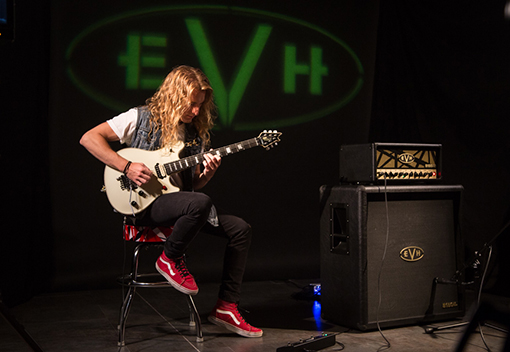 EVH diehard fans may recognize L.A.-based musician Frankie Lindia from some of our EVH amp demos in recent years. Now, you can experience even more from this talented and versatile guitarist with the recent release of his instrumental debut album, Creatures of Habit.
Lindia poured his heart and soul into the effort, handling all writing, producing, recording and mixing efforts at his home studio in Los Angeles.
The result is a complex offering that showcases his impressive skillset across genres — from metal to rock to progressive music lovers. Creatures of Habit takes you on a sonic journey with old-school heavy riffage in songs like "The Temptress," and then into epic landscapes in songs like "Reflect."
Inspired by day-to-day life and its constant flux of highs and lows, Lindia revealed that the melodic "Reflect" is among his personal favorites.
"The main melody is very distinct and says something," he reveals. "The song starts you off somewhere 'dark,' takes you up through some passages and then brings you back down to that dark, eerie frame of thought again- which can most definitely symbolize life itself with its 'ups and downs'".
Lindia recorded the album through his go-to EVH 5150III El34 50W head.
"It was very simple setups, standard tuning, delay, verb and some effects like phaser and chorus here and there," he said.
Experience Creatures of Habit for yourself with the below YouTube link, and then order his album through CD Baby or iTunes.