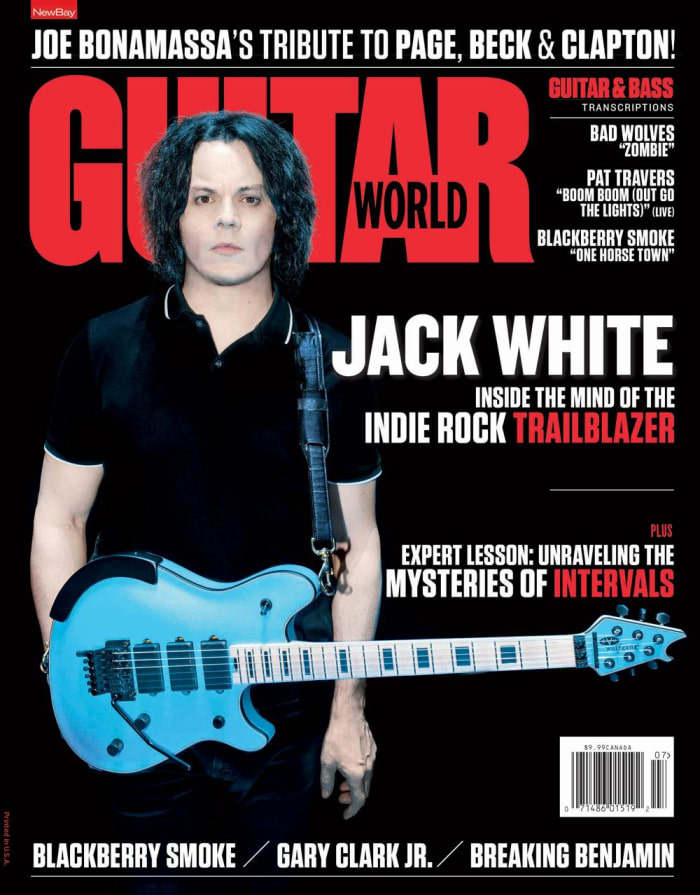 A stoic Jack White and his custom EVH Wolfgang guitar don the July cover of Guitar World magazine, which includes an in-depth article with the enigmatic showman about his approach to his recently released third solo album, Boarding House Reach.
Deeply committed to pushing the envelope and challenging himself, White explored uncharted territory with this latest effort.
"This is probably the album that sounds most like how I was actually imagining these songs in my head," White tells GW. "I've attempted to do that on records in the past, but you get as close as you can and then say, 'Well, that's about as good as it's gonna get. Time to move on.' But this was more of a scenario of, 'No, that's not the right tone, or the right reverb. Let's keep pushing till we get there.' So I knew that was going to make the record a lot stranger. 'Cause I know my brain isn't as simplistic as the songs I've put out in the past in my life."
As he sought to challenge himself, White changed things up by working on melodies and lyrics without instruments and by enlisting a slew of musicians he had never played with before who had more of a hip-hop background.
White also strayed from his longtime use of "pawn shop" guitars in favor of a Wolfgang USA Edward Van Halen Signature – a decision he explains to GW.
"Because there was so much complicated stuff going on with this record, I really wanted to find, 'What's the easiest guitar out there to play?'" White says. "I've been playing the most difficult guitars to play all my life. But with all the changes I had to deal with—people I never played with before, two days of sessions in New York, two in L.A.—I didn't have time to monkey around with antique guitars in that moment.
"I was looking around, and I saw this interview with Eddie Van Halen about this Wolfgang guitar of his. He said, 'I wanted a guitar that didn't fight me, at all. I said, 'That's the magic word.' I immediately went out and got one of those to try. And, oh my God, I just couldn't believe how easy it was to play. People don't know what it's like to play a piece of plastic onstage and have to keep it in tune with a whole band around you. I knew it was hard, what I'd been doing. But I didn't know how hard until I played something like that Wolfgang guitar. You can go crazy and bend the tremolo arm all the way down and it completely stays in tune. That's absolutely insane. It was what I needed at this point in time to push myself as a guitar player into a new zone, and also just to displace some of the pressure."
While White also picked up a signature model from St. Vincent and Jeff "Skunk" Baxter that he's been playing live on tour, it's only the Wolfgang USA Edward Van Halen Signature that was used for the entire album recording.
"It's absolutely insane the things that Eddie Van Halen invented that we take for granted today. And I know he's always been a guy like me, who likes to work in the garage and mess with things. So I know his style of design was coming from the garage. That inspired me."
Click here to read the full in-depth article and to see White live in action with his Wolfgang, watch his performance of "Ice Station Zebra" on The Late Show with Stephen Colbert below.