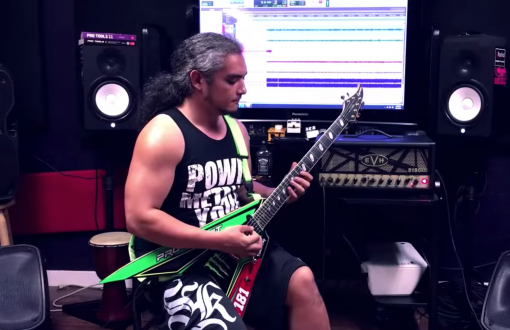 Seven Kingdoms guitarists Kevin Byrd and Camden Cruz are featured in a new gear tour/playthrough video of the power metal outfit's song "In The Walls." Filmed for Ultimate-Guitar.com, the killer clip finds the axemen using their EVH amps.
"Obviously, EVH are the best guitar amps there is, so that's why we are playing them," said Cruz of his EVH 5150III 50W EL34 amp.
Cruz pairs his amp with his customized axe, while Byrd plays through an EVH 5150III 50W amp and 5150III 1×12 cabinet on a guitar loaded with a pair of Bare Knuckle Ragnarok pickups. The results are a perfect blend of fast licks and iconic EVH gain.
The band goes on tour this fall across America with fellow power metal bands Borealis and Dire Peril.
Check out the video below, and check here for tour dates.