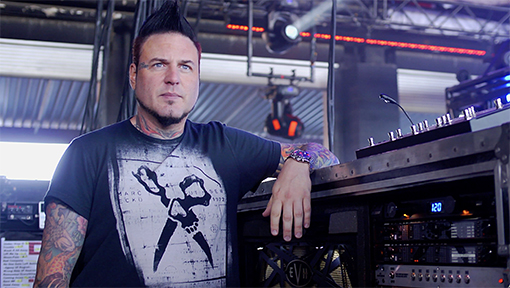 As heavy metal giants Five Finger Death Punch make their way across America on a massive arena tour, guitarist Jason Hook took some time to give EVH a behind-the-scenes look at the EVH 5150III®S EL34 100W head that's helping to drive his monster tone.
As Hook explains in the video below, a desire for something more muscular is what led him to the EL34.
"My [guitar] tech and I went out and we got our hands on one of everybody's head, every manufacturer sent us a head and we did a shootout," says Hook. "And it turned out the EVH 5150IIIS was the best, I thought. Just an amazing, chunky, rich-sounding amp. It has all the desirable harmonics and tight low end with great clarity. It simply won out amongst all the other amps we tried."
Hook also praises the amp for its versatility in tone, whether its chasing gain or crystal clear notes.
"For any guitar player who likes a high gain head, this has plenty available and it's very smooth and easy to play on," says Hook. "The clean channel is exceptional as well. It's one of the best clean channels I've heard in an amp and that's why we picked this head."
Watch the full video below, and catch Five Finger Death Punch on tour here.