Coming in hot! EVH has eight new models hitting the market in 2019 for your playing enjoyment. Here's a quick rundown of what's in store…
Shark week is a little early this year. A notorious fan favorite since the early days of Van Halen, the EVH Striped Series Shark makes its way into the lineup with some serious attitude.
From the visionary mind of Eddie Van Halen, the eccentric Shark guitar started its life as a Destroyer before Eddie took a saw and some red and silver spray paint to the body of the axe. The end result was a creation as iconic as the man playing it, and EVH is excited to finally bring that crazy creation to the fans.
The Shark delivers immense tone with EVH Wolfgang alnico 2 Humbucker bridge and neck pickups topped with black and parchment pickup bobbins. These pickups get you as close to Eddie's iconic lead tone as you could possibly get with perfectly balanced overdrive and sustain — think roaring output and immaculate highs. Enjoy smooth volume swells with a volume control that packs an EVH Bourns Low Friction Pot.
The angular ash body, back of the neck and famed "hockey stick" headstock are finished in the classic Burgundy with Silver Stripes paint job. Toss in a three-way toggle switch housed on a brass plate, eye hooks with turnbuckles in its "jaw," chrome-plated solid-brass harmonica bridge plus gold and chrome custom EVH-stamped Gotoh® tuners and you've got a truly shocking-looking axe.
Wolfgang® Special in Satin Primer Gray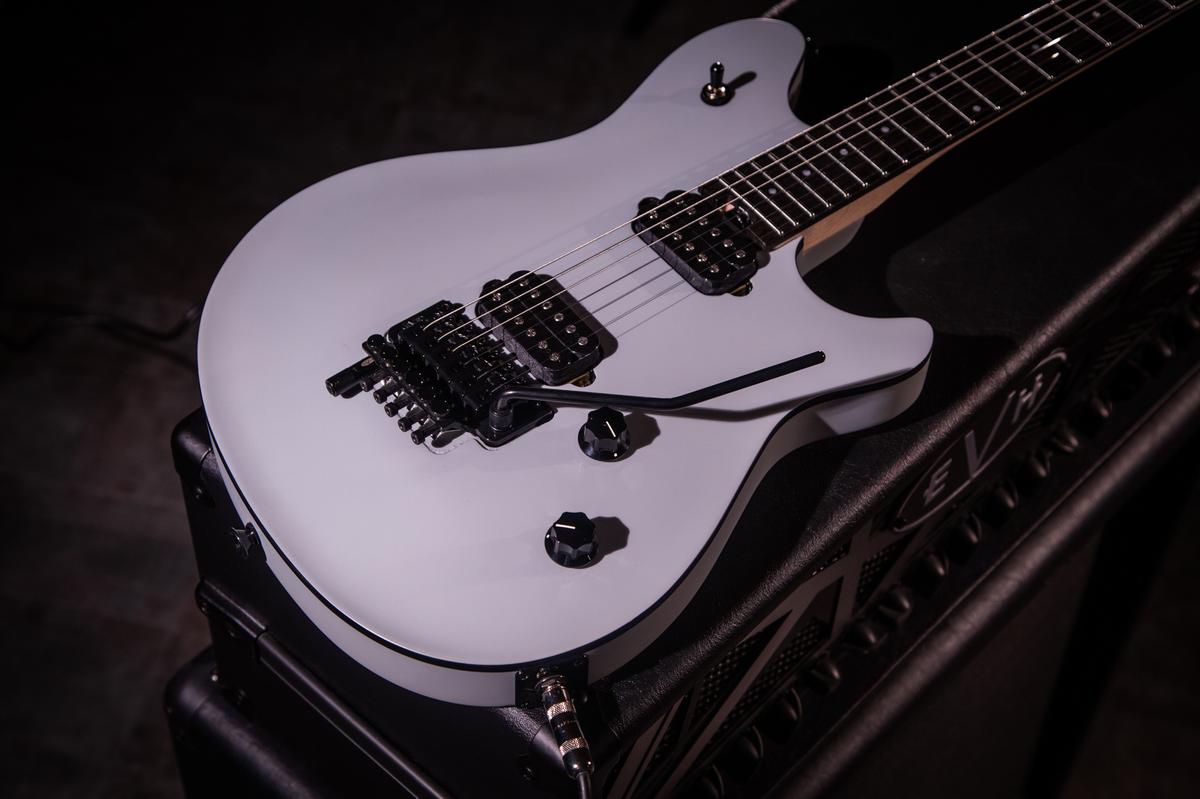 The Wolfgang Special ups the ante in three new show-stopping finishes.
First up? The battle-ready Satin Primer Gray with single-ply black body binding, matching headstock and black hardware. Playability doesn't get any smoother with an ebony fingerboard that has a hand-rubbed urethane finish on the back, 22 jumbo frets and white dot inlays.
On all of our Wolfgang Special guitars, dual direct mount EVH Wolfgang pickups erupt with the wailing highs you'd expect from a guitar bearing Ed's stamp.
Single dome control knobs for volume and tone have been dialed-in to Van Halen's exact specifications — the smooth-feeling 500k pots make it easy to find a unique sound while retaining the crisp high-end sparkle of the Wolfgang pickups.
Wolfgang® Special in Metallic Blue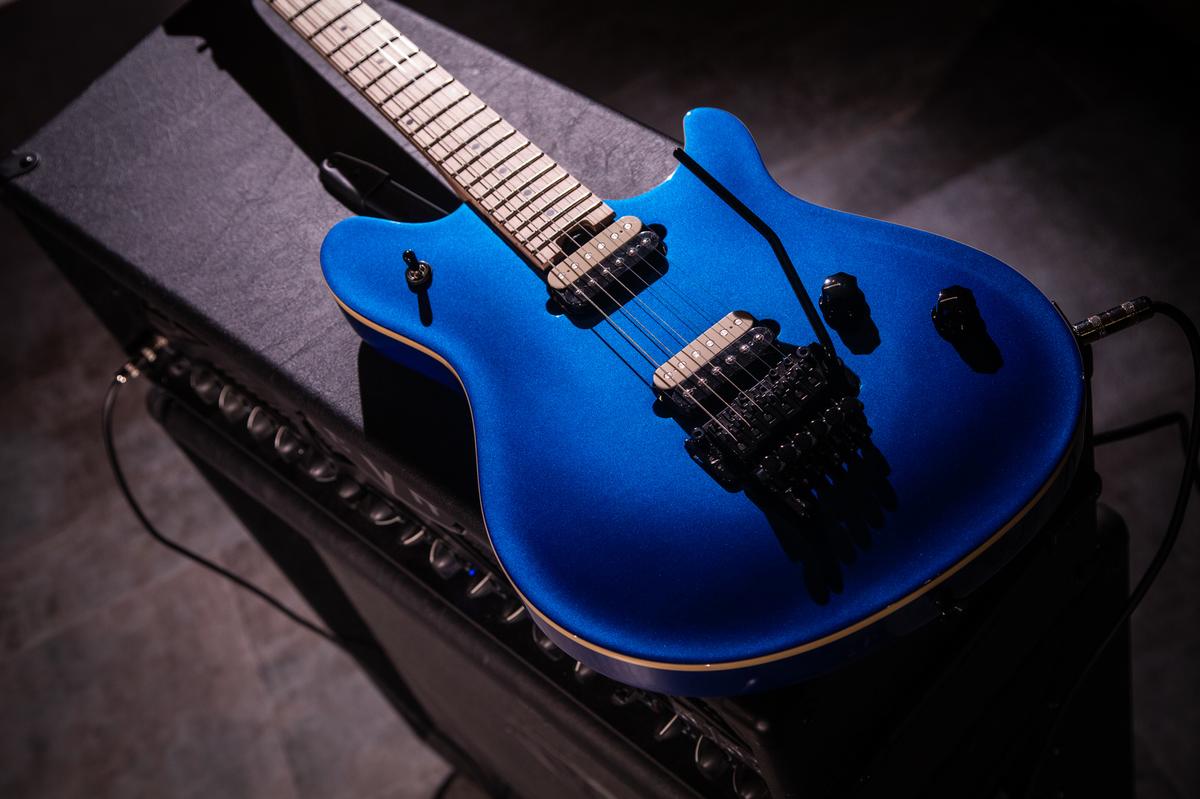 Eddie Van Halen has long been rock 'n' roll royalty and this new Metallic Blue finish with cream body binding and matching headstock sports regal style in spades. A 12"-16" compound radius maple fingerboard, black hardware and pickups topped with cream and black bobbins complete the look.
Wolfgang® Special in Polar White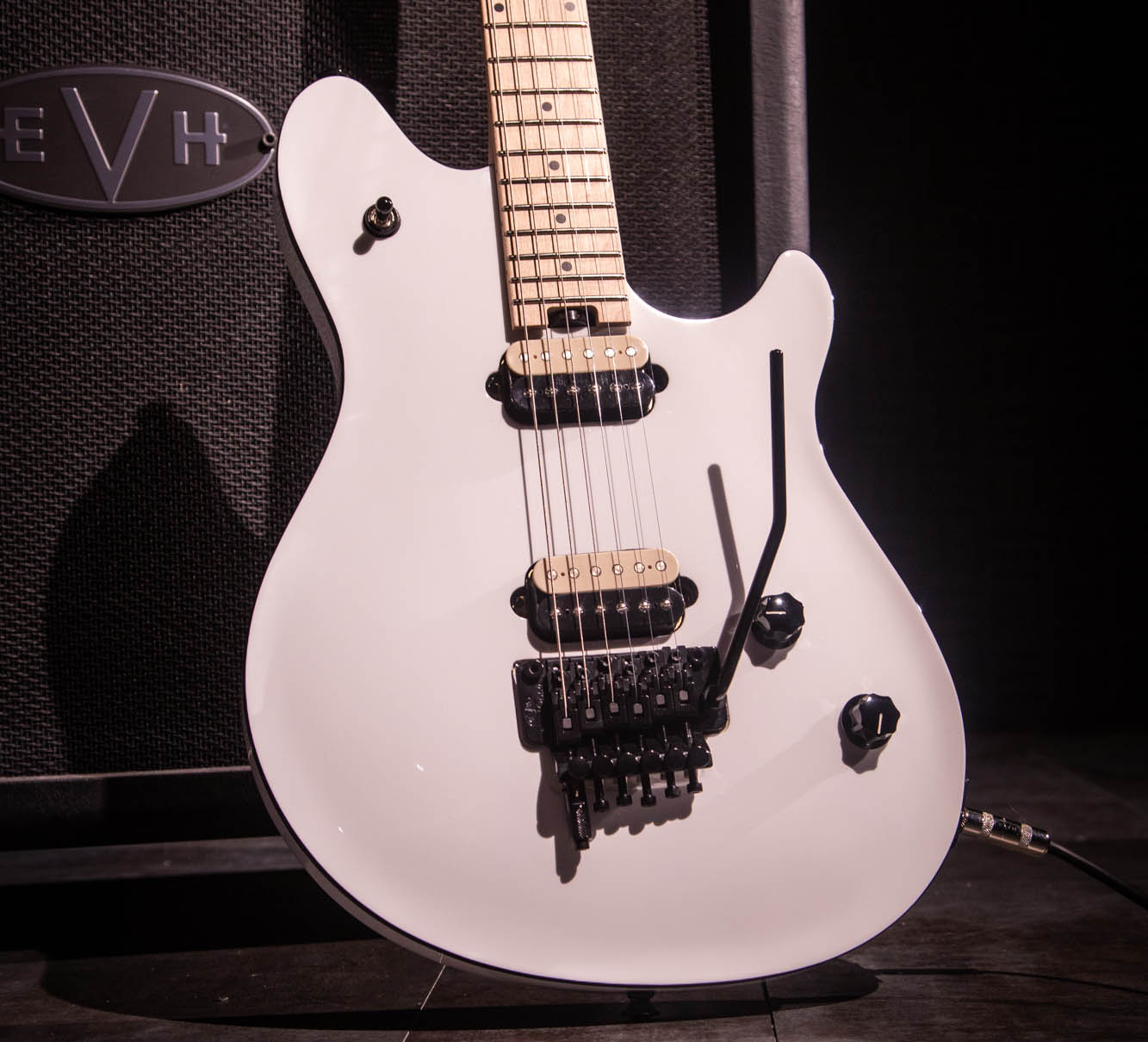 Style takes a chilly spin with the Wolfgang Special in Polar White. This stark model is bundled up in single-ply black body binding with a matching headstock, black hardware and maple neck and fingerboard.
On all our "Special" offerings, the EVH-branded Floyd Rose locking tremolo and R2 locking nut keep you in tune for the deepest whammy dives and highest whinnies. Invented by Eddie himself, these axes also pack the EVH D-Tuna, taking you from standard tuning to drop d tuning at the flick of a switch. Literally.
Wolfgang® WG Standard Xotic in Midnight Sunset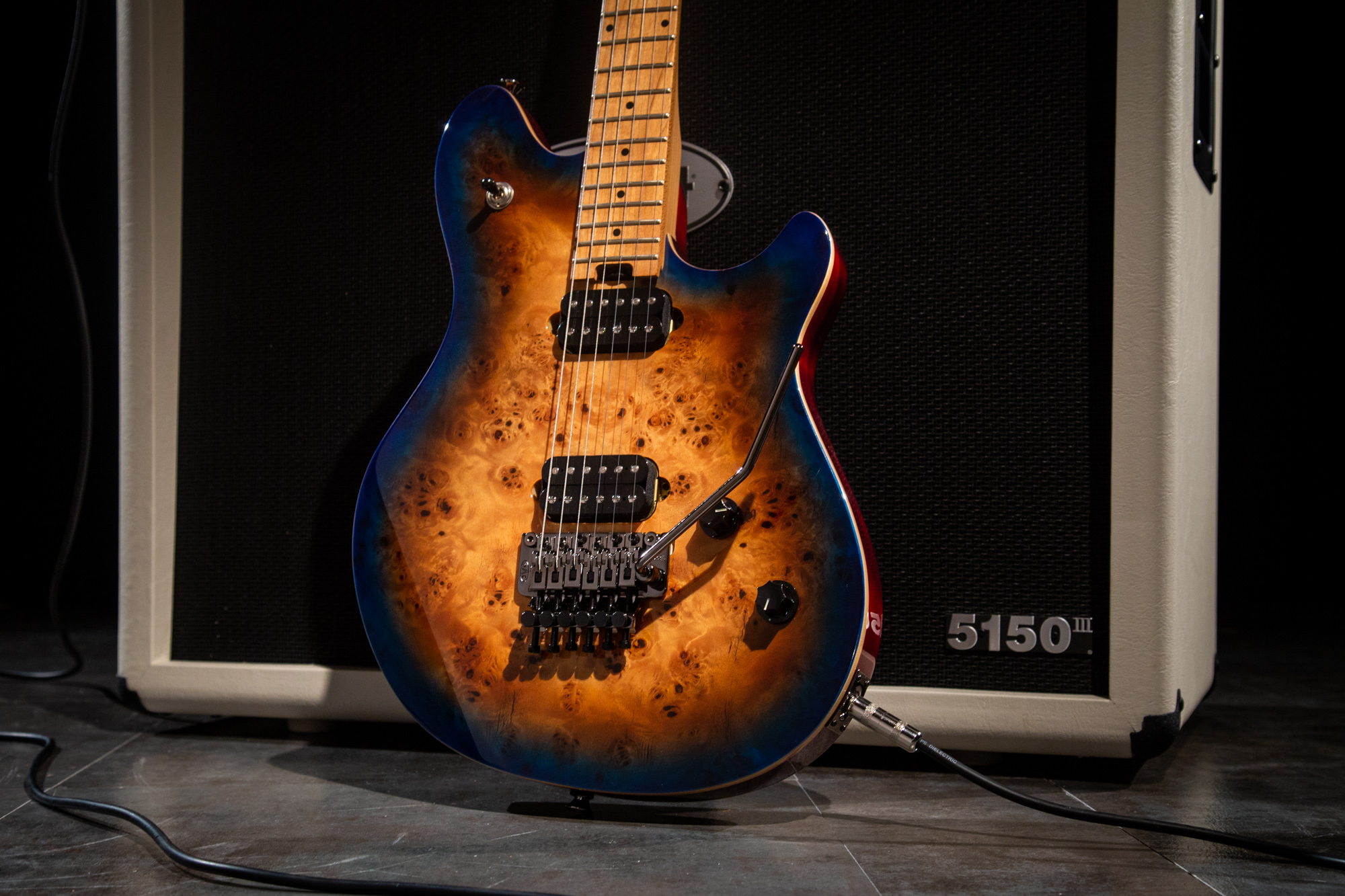 The new Wolfgang WG Standard Xotic models are the very definition of elegance. The basswood body of this guitar features a poplar burl top finished in a moody Midnight Sunset with black headstock and black chrome hardware. Photos truly don't do this finish justice; the circular texture of the poplar top add unparalleled depth to this axe, which goes from tan to brown to sapphire in a gorgeous burst pattern.  Attractive masked-off natural binding wraps the body, further upping the ante.
Tap away until your heart's content with a roasted maple neck that has been rolled to Eddie's specifications and the sleek 12"-16" compound radius baked maple fingerboard.
Found on all WG Standard models, dual direct mount EVH Wolfgang humbucking pickups fuel your playing with ripping overdrive and pristine highs. The low-friction volume control allows for smooth swells, while a high-friction tone control prevents accidental tone shifting.
Wolfgang® WG Standard Xotic in Ziricote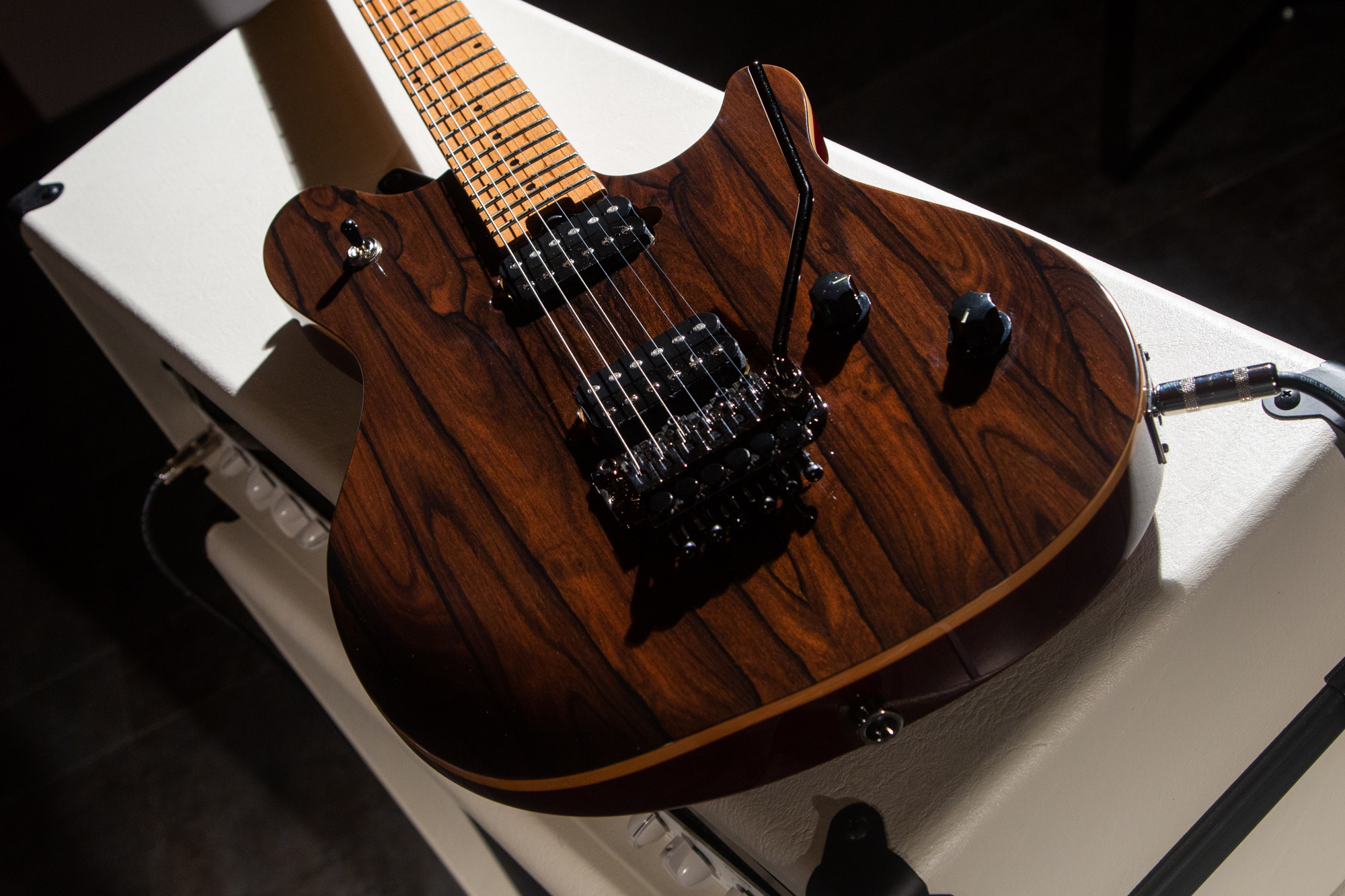 The Natural finish of this Wolfgang WG Standard Xotic model shows off the bold grain of the ziricote top, which is also wrapped in masked-off natural binding. Both the maple neck and the 12"-16" compound radius maple fingerboard have been baked, adding style, stability and undeniably snappy tones.
Drop endless dive bombs without ever going out of tune on all of our WG Standard models, thanks to the EVH-branded Floyd Rose Special bridge and R2 locking nut.
Wolfgang® WG Standard QM Mango Burst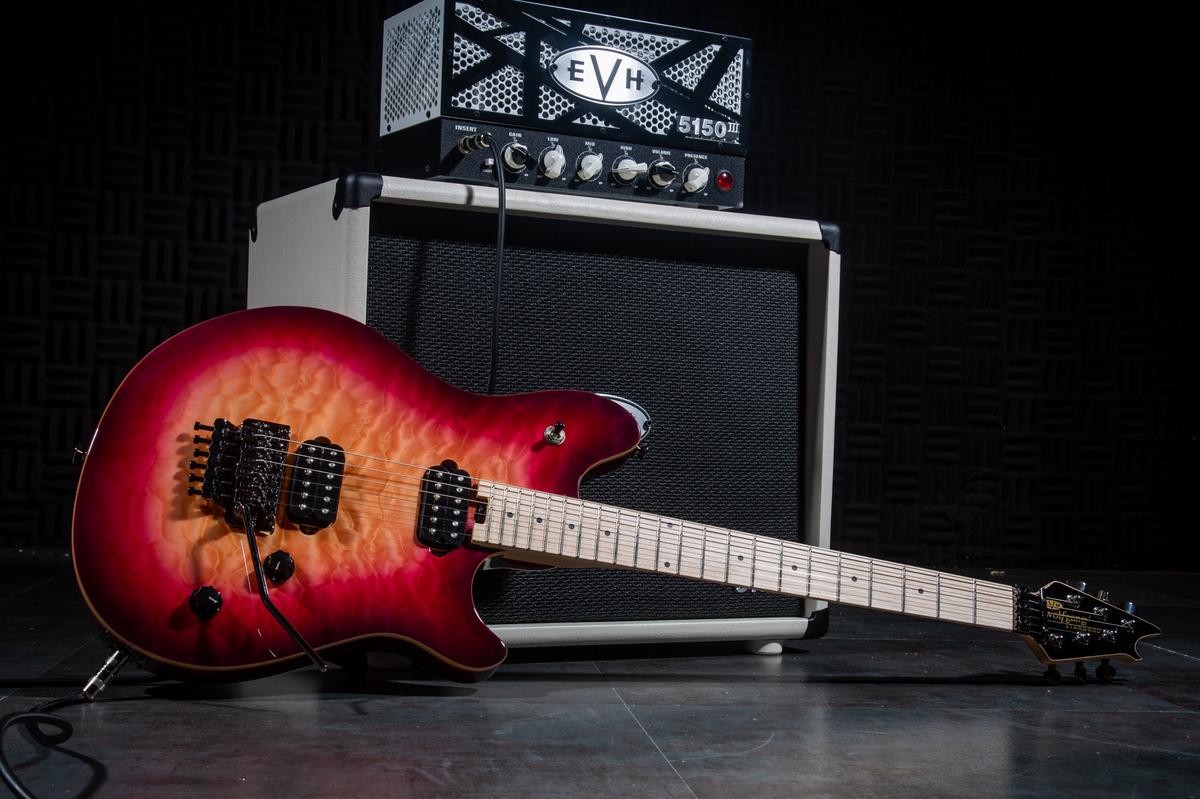 Our Wolfgang WG Standard QM models get a facelift with a pair of new finishes.
Looking for an axe with a sweet and sunny disposition that still can rip and roar with high-output dual direct mount EVH Wolfgang humbucking pickups? Try the Mango Burst finish over the ripply quilt maple top with masked-off natural body binding, maple fingerboard with black dot inlays, black headstock and black chrome hardware.
The special cut body forearm ups the ante on comfort, while the sturdy maple neck of this model is designed to Eddie's exact specifications and is oiled for smooth and speedy playability.
Go ahead, take it for a spin.
The Wolfgang® WG Standard QM Tri Fade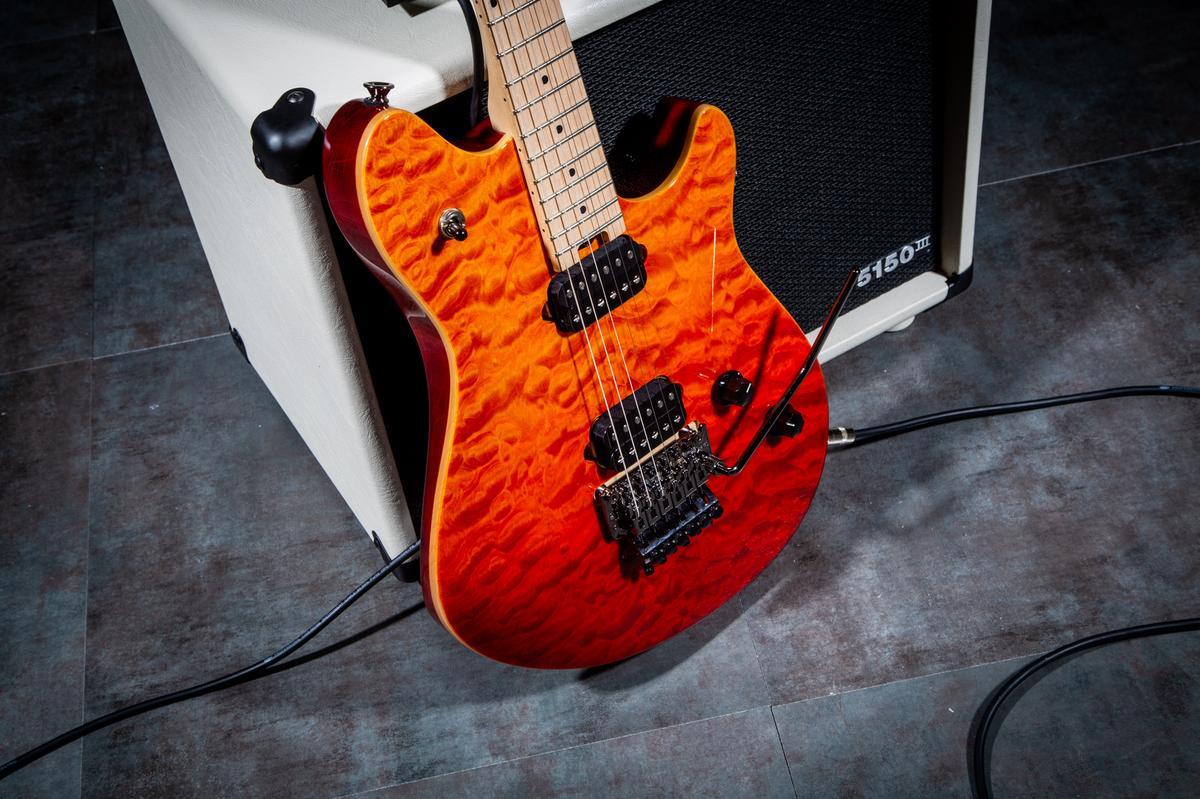 The limelight will shine brightest when you've got the Wolfgang WG Standard QM in the new shockingly bright amber to crimson Tri Fade finish in your grasp. Gorgeous masked-off natural body binding, compound-radius maple fingerboard with black dots, black headstock and black chrome hardware complete the edgy, ready-for-the-stage look.
Speaking of the stage, all of our Wolfgang models feature a heel-mount truss rod adjustment spoke wheel for quick neck relief tweaks even between songs.
So go ahead, pick your poison!