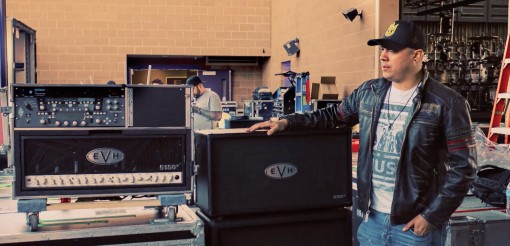 In a backstage interview, Bad Wolves guitarist Doc Coyle gives fans a quick look at his current live rig, and shares how his EVH 5150III 100W head (paired with EVH 5150III 2×12 and EVH 5150III 4×12) cabinets give him the bite he loves in an easy-to-navigate amp.
"What I look for in an amp in many ways in simplicity," says Coyle of his rig. "I have been drawn to this amp [because] you plug it in, and you don't have to do a whole lot. Everything can literally be at 12 o'clock, and it's already where you need it to be."
During the fall, Bad Wolves enjoyed an arena tour in support of Five Finger Death Punch, and Coyle explains how he had absolute confidence that his behemoth EVH setup would always be dialed in and ready for action when called to duty.
"I tried everything before I started playing EVH," says Coyle. "I don't want to sit there and being dialing things all day, so this simplicity really works for me."
Check out the full interview below, and find out where you can catch Bad Wolves live here.