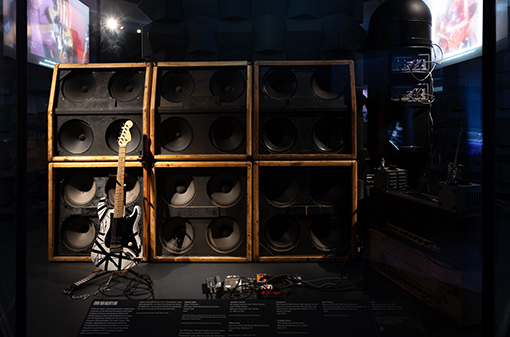 Ed Van Halen's 1978 touring rig and original "Frankenstein" guitar are currently on display at the Metropolitan Museum of Art in New York City as part of an exhibit called "Play It Loud: Instruments of Rock and Roll" exhibit, which opened today and will run until October 2019.
Curated from 70 private and public collections in the U.S. and U.K. in collaboration with Cleveland's Rock and Roll Hall of Fame, the exhibit features more than 130 instruments that were used by artists such as Van Halen plus Chuck Berry, Eric Clapton, Bob Dylan, Prince, Joan Jett, Elvis Presley, Joni Mitchell, Keith Richards and Bruce Springsteen.
"Instruments are some of the most personal objects connected to musicians, but as audience members we are primarily used to seeing them from far away, up on a stage in performance." said Jayson Kerr Dobney, the show's curator.
"This exhibition will provide a rare opportunity to examine some of rock and roll's most iconic objects up close."
Get more information about the exhibit here!