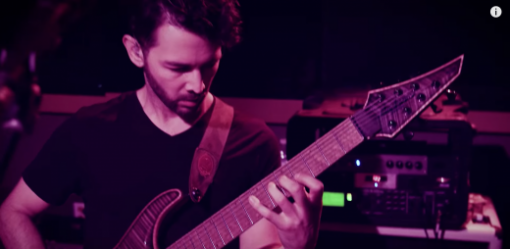 Tech-death metal band Entheos recently gave an insane performance at Audiotree Studio with songs off their latest album Dark Future, including "Black Static" and "Pulse of a New Era."
Guitarist Travis LeVrier had no problems keeping his solos pristine and riffs tight on a custom Jackson Dinky Arch Top 7-string axe through an EVH 5150III 4×12 cabinet. LeVrier's immaculate playing alongside vocalist Chaney Crabb's growl, Tim Walker's punching bass and Navene Koperweis' brisk drumming made for a match made in metal heaven.
Give the full session a listen below, and catch Entheos on tour here.