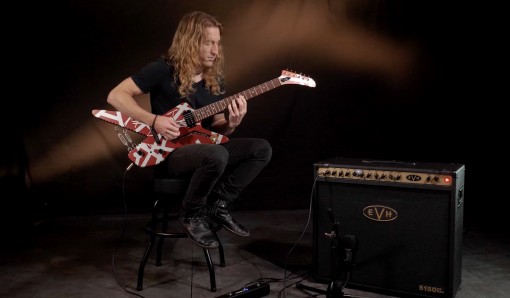 Virtuoso guitarist Frankie Lindia traverses the vast tonal landscape of the all-new EVH 5150III® 50W EL34 2×12 combo amp in a brand-new demo video.
For the intro, Lindia plugs in the all-new Striped Series Shark for a searing solo on channel two (blue).
Utilizing the four button footswitch to select channel one (green), Lindia switches up to  an EVH Wolfgang Special in Polar White for pristine notes radiating shimmering highs with a taste of reverb before turning up the gain and adding some crunch.
For some snarl, Lindia switches over to channel two (blue) and jams through a rock 'n' roll lick on an EVH Wolfgang Special in Metallic Blue. Here, he also ups the gain and lowers the volume to dirty things up a big before plugging in the effects loop for an additional passage on channel two.
Lindia then launches into a hissing, high-gain session on an EVH Wolfgang Special in Satin Primer Gray through the channel three (red) complete with arpeggiated scales and whinnies before turning the power level down for balanced tone and delivering a crunchy rhythm run.
For the demo ending, he reverts back to Eddie Van Halen's iconic Shark with a gain saturated run through channel two (blue).
The clip, which you can watch below, also quickly spotlights the new EVH 5150III 50W EL34 1×12 combo amp.