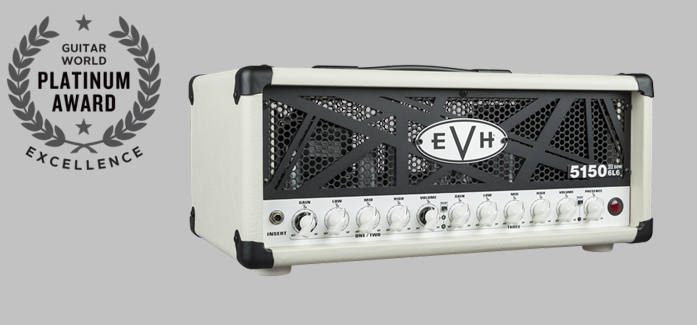 Our EVH 5150III® 50-Watt 6L6 head earned Guitar World magazine's Platinum Award in the September issue, with reviewer Chris Gill highly praising this "triple threat" for its refreshed upgrades.
Initially introduced in 2011, the refreshed 50W 6L6 head simply upped the ante on an already outstanding amp.
As Gill notes, "The original EVH 5150III 50-watt head registered no complaints when it comes to tone and its incredible variety of them. In fact, many guitarists consider it to be the best-sounding EVH amp of the entire lineup, and as a result it has become a common fixture in many modern recording studios. The only real problem was the shared volume and gain controls for channels 1 and 2, which made it practical for using only the clean and high-gain or crunch and high-gain channels in live performance applications due to the significant volume differences between the clean and crunch channels. The dual-concentric volume and gain knobs for channels 1 and 2 are a simple but highly effective solution that considerably increases the head's versatility on stage.
"The great news is that the sounds remain the same as before, with the extended frequency range, expanded dynamic responsiveness, tighter bass, focused attack and more aggressive saturation that made the original 50-watt 5150III a ferocious beast. This is an amp that can truly do it all, from dazzling clean tones and fiery classic rock crunch to the heaviest modern metal grind."
Other features include low, mid and high EQ controls for channels one and two, volume, gain, low, mid and high controls for channel 3, global presence and resonance controls, selectable impedance (4, 8 or 16 ohms), dual parallel speaker output jacks, effects loop, headphone jack, line out and a four-button footswitch with ¼" input jack and MIDI input.
Wrapped in either black or ivory textured vinyl covering with a black EVH-stripe pattern steel grille, the head also has a pair of JJ 6L6 power tubes and seven JJ 12AX7/ECC83 preamp tubes are employed for multiple stages of preamp gain.
The Bottom Line?
"With its new independent gain and volume controls for channels 1 and 2 and comprehensive variety of pro-quality tones the EVH 5150III 50-watt 6L6 Head is the perfect gigging and studio amp for discriminating players, while its affordable price makes it perfect for everyone," writes Gill.
Pick up the September issue of Guitar World for the complete review.