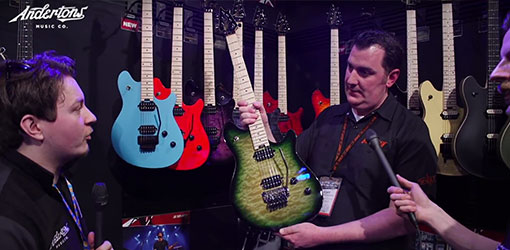 The quirky Andertons TV crew was in full effect at the 2018 NAMM Show in Anaheim, Calif., held at the end of January. As part of their rounds, the award-winning unit visited the EVH booth to check out all the incredible new gear we had to offer.
UK Product Manager Adam Bowden-Smith was on hand to show Joss Allen the ripping new 5150III® 50 W 6L6 head, which Allen proceeded to shred on, the new Wolfgang® Standard colors including the icy Matte Blue Frost and wild Zilla Burst, and finally the Wolfgang® Special, which is spec'd to perfection and available in three striking finishes – Satin Orange Crush, Candy Apple Red Metallic and Ivory.
Hit play and enjoy the full video below.